CONSTRUCTION
CMI Technical Services reputation has been built from its ability to deliver Ball Mill installations with a high degree of quality that ensures the Mills consistent availability during key ore commissioning phases, thus ensuring a solid move into commercial production can be met and sustained. Depending on the location of the project, we are able to utilize local personnel with expatriate supervision for more cost effective measures in delivering our services. 
Our team has vast experience with Crushers, SAG Mills, Ball Mills and Rotary Scrubbers from various vendors, that include;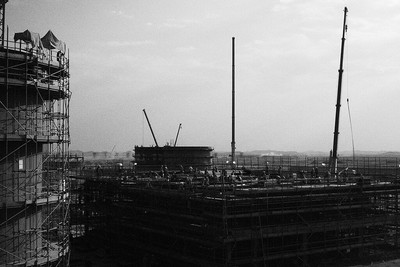 Metso
FLSmidth
Citic
Outotec
Polysius (ThyssenKrupp)
Allis-Chalmers
Fuller-Traylor
Nordberg
Morgardshammer
ANI
Aerofall
Marcy
Hardinge-Koppers
With our organic growth, CMI is also able to provide autonomous construction services for the mining and industrial sectors. Our ability to supply quality personnel is a major factor for being able to deliver high quality services to our clients. CMI is able to supply construction management staff, supervision, mechanical fitters, boilermakers, welders, trade assistants, instrumentation technicians and electricians. We're able to mobilize swiftly and execute a diverse range of projects in Australia and globally.
CMI'S SERVICES INCLUDE:
Diversified construction management
Process plant refurbishment
Installation of structural, mechanical, piping
Offshore procurement
Critical fixed plant disassembly i.e. Grinding Mills, Cone & Gyratory Crushers
Capital Equipment Pre-Purchase inspections with detailed condition reporting.
Geometric laser alignment – Process equipment base plate and sole plate leveling.
---
COMMISSIONING
CMI can provide a range of commissioning and operations services from commissioning planning right through to ore commissioning, operator training as well as plant procedure development.
PLANNING
Commissioning management
Project specific commissioning plan documents
Commissioning area
Organization chart
Develop the commissioning area sequences and schedules
Define the requirements for vendor commissioning assistance
Commissioning procedures
Equipment check sheets
SERVICES
Risk assessment to identify commissioning risks
Procurement of specific tooling and test equipment required to complete commissioning tasks
Identification of commissioning spares and consumables
Incorporating the client team members into the CMI commissioning team to ensure seamless handover of operations
Progress reporting
Dry to Ore commissioning
OPERATIONAL SUPPORT SERVICES
Safe operating procedure development
Metallurgical support
Training and assessment that meets RI109 Resources and Infrastructure Industry Training Package standards
---
ASSET MANAGEMENT
Our reputation has been built in an area of expertise that isn't widely covered. Ball Mill installation and maintenance is high on any managers list as utmost priority. The availability and reliability of a Grinding Mill is pertinent to any plant.
MAINTENANCE MANAGEMENT
CMI is proud to be able offer clients a more streamlined approach to asset management which greatly reduces cumbersome and frustrating paperwork. Our method of utilizing iPad's creates an interface which maintenance employees find so simple they actually enjoy performing their PM tasks! Our team can audit a site and develop the site specific checklists that is accessed via our CMIAuditor App. We can further tailor the system to integrate with maintenance systems such as Oracle, Mainpac, and Pronto to allow ease of scheduling, work order raising and closeout.
CMIAuditorTM DELIVERS THE FOLLOWING BENEFITS:
Elimination of hand written reports!
Plant servicing is fully documented – no more illegible paper reports
Documented reporting of equipment condition
Real time incident management and notifications via email and SMS.
Total accountability of service personnel through user logins and RFID access
Provides accurate replacement schedules reducing equipment downtime and spare parts inventory
Can lead to a reduction in overall equipment operating and maintenance costs
Support, advice and follow-ups from CMI expertise
SPECIALIST LABOUR SUPPORT
CMI can provide specialist labour support to our clients for Ball Mill installations and critical repair works, Crusher Installations and rebuilds as well as general plant works so as to ensure their budget and schedules are met. We have a flexible work force as well as access to many exceptional specialists that gives diversified coverage capabilities. In any case, if you need a single manager or a complete mechanical team, CMI are able to supply personnel of value to your operation.
WE CAN SUPPLY PERSONNEL FOR VARIOUS ROLES INCLUDING:
Mechanical and Process Engineers
Safety Consultants
Supervisors – Mechanical and Process
Mechanical Fitters
Instrument Technicians
Electricians
Boilermakers
Welders
Trades Assistants
SPECIALIST WORK
Mechanical and Process Engineers
Safety Consultants
Supervisors – Mechanical and Process
Mechanical Fitters
Instrument Technicians
Electricians
Boilermakers
Welders
Trades Assistants